Click the green "Genbook" button below to read verified customer reviews: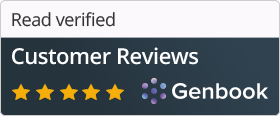 You can also check out what people are saying on Yelp:

"Matt was totally willing to work with my Physical Therapist so that my PT would go further and be more successful for me. Now that's service. He's up for the challenges that come his way and really believes in giving you as much information and knowledge as he can. He knows that if you are educated in how your body works you will be able to take better care of yourself and realize the value of massage maintenance." - Cindy M.
"Matt is the best and most knowledgeable I've encountered when it comes to muscle pain and tension. I can tell him what is bothering me and he gets to the source of the pain. I am able to relax as he works through my sore spots and I always leave feeling great!" - Kelly S.
"I hadn't had a deep tissue massage in a few months and desperately needed a tear-down and rebuild session. Matt found and identified my problem areas and provided stretches and self-massage ideas for me to take home. Very professional and very dedicated to his practice. Will definitely go back." - Emily F.
"I am an ultrarunner that logs 50-100 mile weeks on average during my peak training. I went to Matt after having chronic lower leg muscle pain. Not an injury but simply severe sore knots from the heavy training... Just was not going away... One visit to Matt, I week prior to a tough 50 mile trail race... and I felt better than I had in months the week of the race... Matt knows how to get results... understands athletes needs... and makes me stronger. I will be returning soon... HIGHLY RECOMMEND" - Andy B.
"A good massage is hard to find. I have been getting massages for years. It is always a struggle finding a massage therapist that can provide the right amount of pressure (to get the kinks out) yet provide a relaxing massage experience. Matt can do both. I highly recommend him!" - Martina L.
"Matt found that elusive issue in my hamstrings that no one else seemed to be able to address, and worked it out! As a massage therapist myself, I appreciate someone who really knows their stuff!" - Jen W.
"Matt is a great therapist because he listens to what you need and has a great knowledge of the body. He is able to help me recover from my triathlon races and training. He can help anyone." - Pat C.